COVID-19 and Events:
No restrictions
Birthday Parties: 
Groups of 10 or less – no booking required.  More than 10? – a Ground Fee of $2 per child and $4 per adult applies.  Bring your own food and drinks.  Free use of our grounds, picnic tables, BBQ and KiwiPlay Playground 
The birthday child receives a free ice cream and gets to play golf free!
Prices for Mini Golf and Car Rides for guests discounted dependent on numbers 
We also have a Bouncy Castle (as pictured) we can hire for the day – $200
Please note chewing gum and piñatas filled with tinfoil disks – and  are not allowed at the park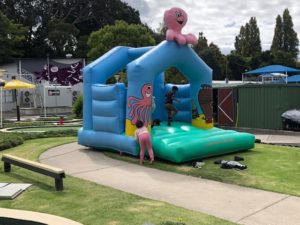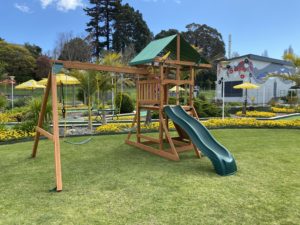 Corporate Events: 
Consider Twilight Golf & Dinner for your next group outing. Family oriented. Ground Fees of $2 per child and $4 per adult applies.  Order in pizza, or bring your own food and soft drinks.  We can apply for a Special License if you want alcohol service.  $250 and $8 per drink.
Minimum Charge of $100 per hour applies if booked after 5pm (can be made up of Ground Fees and Golf) 
Free use of our grounds, picnic tables, BBQ and KiwiPlay Playground
Prices for Mini Golf and Car Rides for guests discounted dependent on numbers
s
restri